ARA Summer School - 9th edition: Nufăru, Tulcea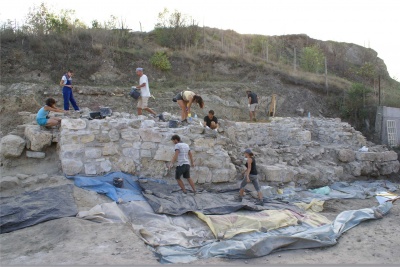 Architecture. Restoration. Archaeology
announces

The field school
Conservation of architectural archaeological heritage
September 16-30, 2013, Nufăru (Co. Tulcea)
________________________________________
The 9th edition of the ARA Field Schools will take place in the Byzantine site (10th Cent.) overlapped by the village of Nufăru, County Tulcea, from September 16th to 30th. The Field School for the Conservation of architectural archaeological heritage is organised in partnership with Romania's National Museum of History and the "Vasile Pârvan" Institute of Archaeology of the Romanian Academy.
The practical module of the school will bring a continuation of the works initiated in the previous edition (16-30 September 2012) in the area called "Landing pier". The intervention will comprise emergency conservation measures of architectural vestiges, testing of protection methods for archaeological trenches or preparation of the infrastructure for larger scale interventions to come, such as replacement of frail hewn stone blocks. The practical works will be carried out under guidance and supervision from the specialists of ARA and the partner institutions, with the support of the invited specialists.
The theoretical module comprises lectures and talks by the guest speakers, researchers, faculty members, professionals in the field of heritage.
The School programme comprises study trips to other archaeological sites in Dobrudja.
The Field School is addressed to students and young professionals in the fields of history and architecture, interested to expand their knowledge and acquire practical experience in the field of archaeological conservation.
The participants number is limited to 10.
Applications can be sent until September 5th.
fee > 300 Lei / 70 Euro
accommodation > housing and meals are provided by the archaeological mission in the site; the fee does not include transport to and from Nufăru.
Further information and applications:
e-mail at asociatie@simpara.ro or phone at +40-(0)731-343 333
contact person: Ştefan Bâlici
Photos to previous edition of Summer School